FREEWARE
LorusFree Version 2020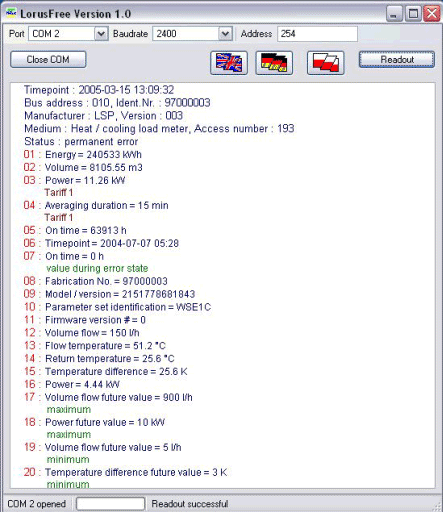 Diese einfache Anwendung erlaubt ein Auslesen der Geräte über primäre Busadresse. Nach dem ersten Programm-Start ist die Kommunikations-Schnittstelle auszuwählen. Die Sprache der Ausgabe der Zählerdaten kann aus drei Landes-Sprachen ausgewählt werden. Das Programm unterstützt keine feste Datenstruktur.
This simple application allows readout of devices (meters) with the M-Bus interface. After first application launch you should choose a serial port for communication process. The meters with fixed data structure are no more supported.
Ten prosty program umożliwia odczytywanie liczników z wbudowanym interfejsem M-Bus. Po pierwszym starcie programu należy wybrac numer kanału RS232 w komputerze. Liczniki ze stałą strukturą danych nie bedą odczytywane.
LorusFree Application needs Microsoft Net Framework 4.8